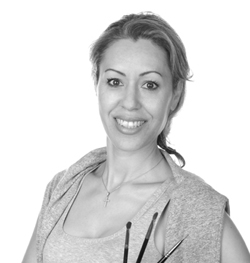 Martha Varnava – Makeup Artist
Martha is an experienced makeup artist specialized in bridal, photography, theatre, television, film, special effects and fashion makeup.  She has collaborated with several eminent advertising agents in Cyprus and in Greece with her work gracing the pages of various magazines.  She has also worked with many recognizable faces in television, theatre and cinema.
Makeup for her is a passion and every face is a new challenge for creation. Makeup can enhance natural beauty or even transform!  Through her talent and experience, she helps women show the best version of their natural complexion and features. For her make-up is a work of art.
For the past 17 years Martha is a part of the Cine Photographia Studio team, contributing her expertise by "making faces" for an excellent result in any occasion.

Sample of Martha's work here
Gregoris Yiannaki – Graphic Designer
Gregory is an experienced Graphic Designer handling all aspects of advertising design i.e. traditional as well as the digital visual arts. He specializes in editing images, photographic effects, wedding and christening invitations,  magazine advertisements, newspapers, outdoors, website design and development and animated Internet banners. Furthermore, he prepares graphic design themes for special events like wedding, christening, parties and press conferences for product promotions.
He has worked with clients from a variety of field such as education, automotive, food & beverage, sports, equipments and more.
He strongly believes in the unique identity, character and style of a person or a brand. He has a wonderful personality and is a great team player. He is the person who will get the job done with enthusiasm and a high degree of professionalism.
During the last 7 years he has been a part of the Cine Photographia Studio team, contributing his visual communication and producing an excellent result in every occasion.